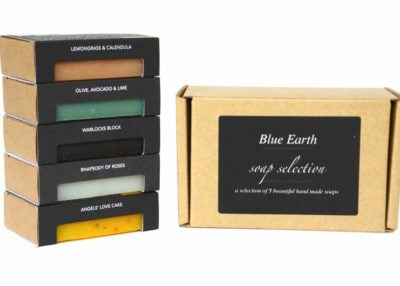 Blue Earth
Soap Selection Gift Pack
A selection of beautiful handmade soaps. Each box contains:
1 x Angels Love Cake
1 x Warlocks Block
1 x Lemongrass & Calendula
1 x Olive, Avocado & Lime
1 x Lavishly Lavender
Our soap box selection is a perfectly scrumptious and handy way to sample a range of our delicious handmade soaps.
It also serves as the perfect gift pack for anyone who prefers to use products made from natural ingredients or simply loves to showcase beautiful things in their bathroom. And these soaps smell amazing too!
Conveniently presented in a box made from recycled materials, each box contains five personally selected medium-sized handmade soap from our fine collection.