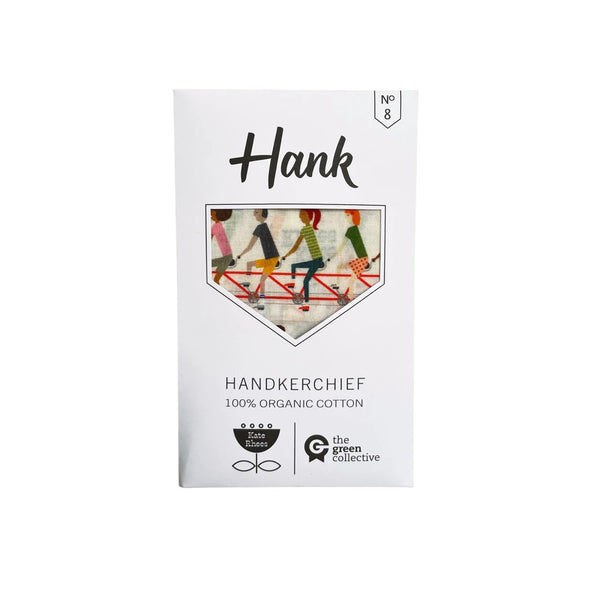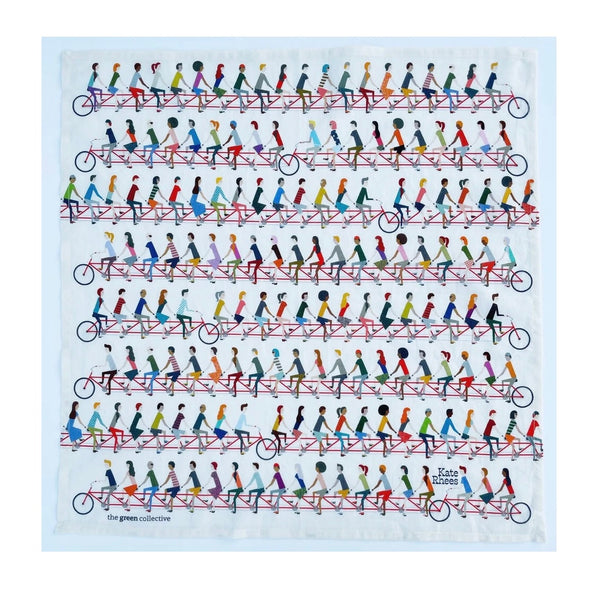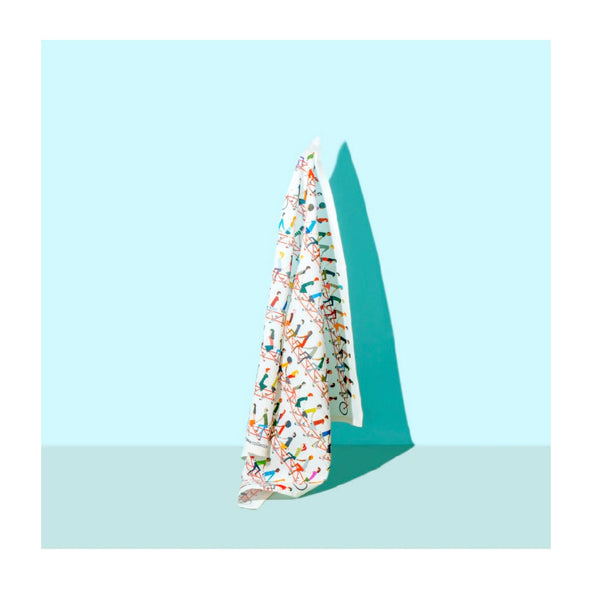 The Green Collective
Hank - 8. Tandem Bikes by Kate Rhees - Organic Cotton Handkerchief
Meet HANK. Our reinvention of the classic Handkerchief.
TANDEM BIKES by Kate Rhees makes you smile. A shared happiness as you pedal along. If you can ride a tandem together, you can accomplish anything together!  

100% Gots Certified Organic Cotton
Nine amazing designer prints 
Incredibly soft to the touch, kind to your skin & lightweight
A natural and sustainable product
Cut back on the tissues & grab these much awaited HANK before they sell out.
SIZE 43cm square size makes these a super versatile product with multiple uses. 
HANK is presented in a card envelope that fits inside a standard sized envelope & DHL satchel, for the most efficient gift giving - 17cm x 10.4cm
DESIGNS + ARTISTS:
1. NATIONAL PARKS by Glenn Jones. This design will inspire the adventurous, evoke the nostalgic, motivate the dreamers and remind those far away of New Zealand's great outdoors. 
2. CHEETAH by Studio Soph. This iconic design is a very popular illustration and ceramic art by Sophie. Loved by all ages for the cheeky expression and colour palette.
3. JOY by Elizabeth Olwen. Joy spreads a message of positivity through words of affirmation. A calming, reassuring and inspirational floral design.
4. AROHANUI by Natty. A stunning hand drawn Tui design inspired by nature. A beautiful memento celebrating native New Zealand flora and fauna. 
5. FRIENDS PARADE by Suzy Ultman. Celebrating all friendships. Spreading a rainbow of care and love and connection. And cats.
6. SPRING by Belle Hawk. This modern abstract floral design is a favourite of ours. "Despite the forecast, live like it's Spring"
7. VINTAGE LURES by Kate Rhees. Celebrating the fun and artistry of old lures. Maybe you enjoy fishing, or have memories of rummaging through a tackle box. A way of preserving the past.
8. TANDEM BIKES by Kate Rhees makes you smile. A shared happiness as you pedal along. If you can ride a tandem together, you can accomplish anything together!
9. MEADOW by Beck of Fabric Drawer. This is an eye-catching floral print with a modern vibe. This timeless pattern is an instant staple across all seasons. 
OTHER USES:
FACE BLOTTER | POCKET SQUARE | GLASSES CLEANER | EXERCISING | DRY YOUR TEARS | ALLERGY SEASON | ACT OF CHIVALRY | NAPKIN | NECK COOLER | FUROSHIKI GIFT WRAP | MAKEUP FIX | DRY THE BIKE SEAT | GREEN THUMBS | DRINK COZY | BLANKY BUDDY | EMERGENCY COASTER | EMERGENCY DUSTING
EMERGENCY BUMPS & SCRAPES | ICEPACK | SNACK HOLDER | NOSE DRIPS | SWEATBAND | HANDBAG DECOR | EMERGENCY SHADE | DRY YOUR HANDS | FACE MASK


CARE INSTRUCTIONS:
Recommended washing depends on how you have used it. For most uses, feel free to simply throw into your regular cold wash. 
If you have used it for a heavy cold or emergency first aid then a pre soak is useful. Soak in warm water for 30mins with a drop of detergent. Let that absorb in and simply rinse or then pop into your regular wash.
EXTRAS:

Line dry - suns own natural sanitiser.
Iron - iron out crinkles.
When we starting designing HANK we had a clear vision of what were absolute non-negotiables. 
Organic Cotton. 
Essential when using something in close contact with your skin.
Organic Cotton uses no chlorine bleach, synthetic dyes or fragrances. 
No (or very minimal) synthetic pesticides.
Less energy and water usage to process.