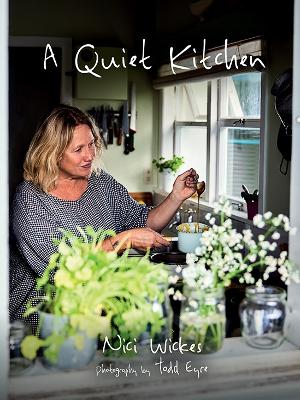 Nici Wickes
A Quiet Kitchen
"My latest book is a collection of the recipes that got me, any many of you, through the tough times of 2020/2021 during lockdowns and isolation. It's also a book of reflections on topics dear to my heart - finding the joy in living solo, how to cook and eat simply, how being mid-age is wonderful, giving up drinking, finding my way through sickness towards health and all the rest of what life throws at us! It's a book I wrote from my heart to yours that will help you out in the kitchen when you settle in to just 'cooking something to eat. Enjoy" xx
Nici Wickes has gained a strong and loyal following for her uncomplicated approach to cooking great food. Now this much-loved food writer brings us a new collection of recipes inspired by lockdown in her little cottage by the sea. With the world gripped
by a global pandemic and suddenly finding herself out of a job, Nici began creating daily Instagram cooking videos from her kitchen. These unrehearsed, often hilarious, cooking sessions and her irrepressible enthusiasm for food became a daily highlight and comfort for thousands during an uncertain time.
A Quiet Kitchen is an extension of those lockdown kitchen videos, where Nici shares not only her recipes but her personal stories of life's joys and challenges – how the kitchen is her happy place, her gruelling journey through menopause, why daily ocean swims are so important for her mental health and how she finds happiness in living alone. Throughout, her message is simply that whether cooking for one or for a crowd, there is so much pleasure and comfort to be gained from cooking and eating good food.
| | |
| --- | --- |
| DIMENSIONS | 190 × 252 mm |
| AUTHOR | Nici Wickes |
| AUTHOR BIO | Nici Wickes is the author of World Kitchen and Cook Eat Enjoy. She is a contributor of food-related content and recipes for magazine, radio and other media. She lives in a small seaside community in New Zealand with her cat Joshua. |
| Cover | Paperback |
| NUMBER OF PAGES | 256 |